Quality
In 2005 we implemented the Quality Management System according to the standard PN-EN ISO 9001 for the production of pressure castings. It has been systematically supervised to date in conformity with the audit and certification procedure of TUV NORD CERT.
In 2017 we underwent recertification to the new standard ISO 9001:2015.
Quality is a top priority in all processes carried out in our company. Thanks to the constant improvement of the system, its efficiency increases and we are more and more effective at satisfying the needs and expectations of our customers.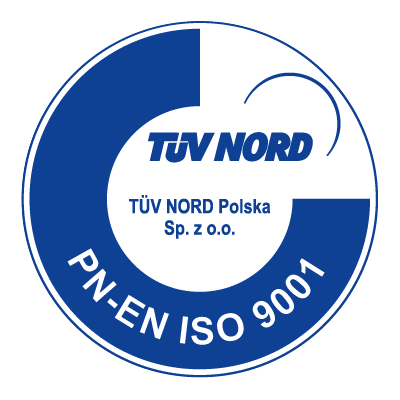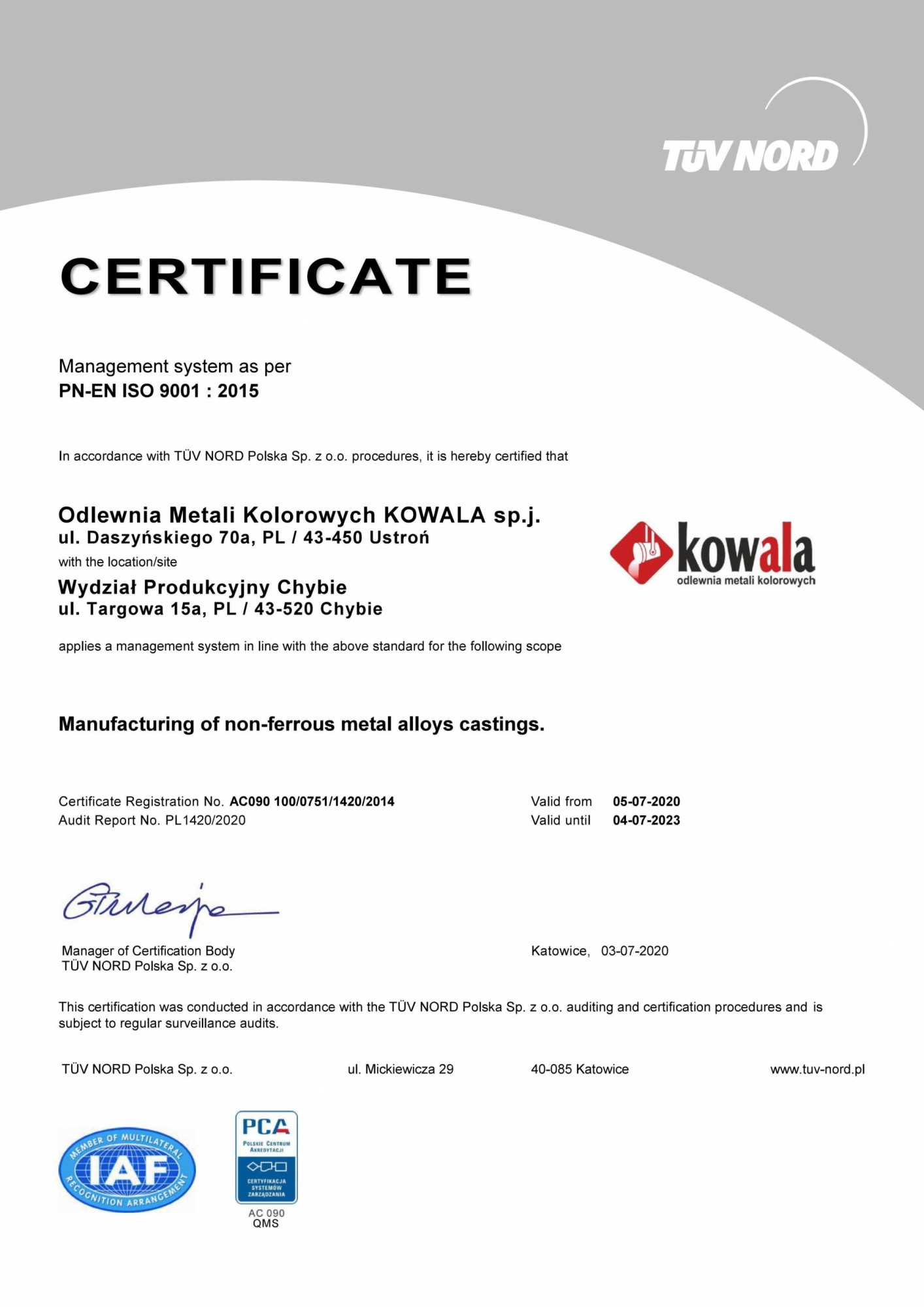 When selecting a producer of castings from aluminium alloys, quality should always come first. After all, aluminium elements are crucial structural elements in many sectors. Here you cannot afford any error or inaccuracy. Our company has a very specific quality policy. All aspects of our business, such as pressure castings and sand castings, are covered with our Quality Management System. Quality stands not only for the application of advanced technological solutions. It also stands for constant personnel training and being up to date with the latest developments and trends in our sector. Getting to know our customers' needs is no less important. We achieve top quality through practice and cooperation with the best suppliers of raw materials. Pressure castings are characterised by precision. It is impossible to achieve it without proper quality equipment and operatives watching over the entire process. The fact that sand castings are less precise in reproducing details does not mean that their production does not require commitment. As a company operating in this industry for years now, we know it very well. Our quality policy results in trust on the part of our customers and the suppliers we cooperate with. Our strategic goals in this respect constitute our priority.
Quality policy
Our products and service in casting production have high quality, good prices for to meet the customers' requirements. The quality politic is the main element for to keep the good condition of our firm. We are going to realize she through follow up the strategic targets as:
- follow up QMS (Quality Management System and C) and Certificate according standards PN – EN ISO 9001: 2015 and develop continuous improvement for stable and strong market position of our firm.
-

fallow up customers' requirements and needs

present and future clients which we can fulfil.
-next is Developing Plan of our firm

for expand production possibility and our offer and let us to meet easy new clients.
-continuous improvement

in technology and monitoring system in whole production processes.
-continuous develop base

of technical details and also processes measurement and informatics equipment.
-still develop skills and qualification of our employees' through trainings and involve them in responsibility for quality system management realisation.
-enlightening all employees' idea that their activities decided about quality and requirement

should be still higher and higher.
-co – operation with renowned suppliers

of materials and components, also service.
-delivery - on time

and improvement all service for the customers.
-consulting in maintains

and technical service for our

clients.
-fulfil participation of all the employers

in maintenance and improvement of Quality Management System.
In the name of all employers and myself I bind one-self for fulfil up targets of Quality Politic and continuously improvement Quality Management System conformable with standards PN – EN ISO 9001: 2015 and low regulation.
Business Owners

Arkadiusz Kowala


Bogusława Kowala

Anna Kowala