Sand Castings
We offer high quality products manufactured by sand casting. This is a rather common technique of hand molding we often used when manufacturing machine parts and equipment. It works well both with small-lot and serial production.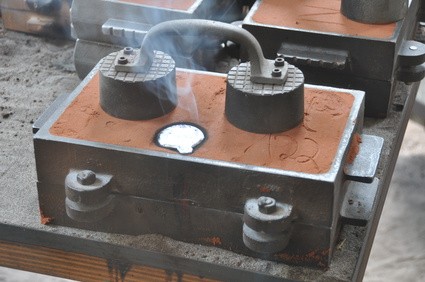 Characteristics of our sand castings:

- unit weight from 0.1 to 50 kg
- in hand molding technology
- serial production
- bentonite or oil mass molding
- comprehensive production - FIND OUT MORE
- sand-casting foundry shop area: 250 sqm
- division staff: 15
Requests for quotation: biuro@odlewnia-kowala.com.pl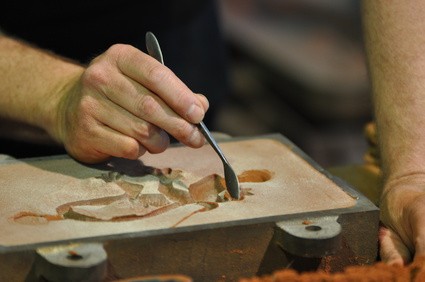 Characteristics of manufacturing sand castings compared to die castings:
- low cost of equipment
- short lead time to production
- higher unit cost
- lower dimensional accuracy
- higher roughness of the surface
What does the production look like?
Molds made from molding sand are used for sand casting . Liquid metal of appropriate properties is poured into those molds and once the metal is set, the semi-finished goods are removed from molds for further machining. We then give the required shape and dimensions to the castings by machining them, e.g. using CNC method or finishing (sand blasting, blast cleaning).
The entire manufacturing process is supervised by our qualified workers. They supervise the work flow and inspect product quality, as well as ensure correct execution of every step in the process. This translates into the quality, durability and resistance of our finished goods.
Our expertise, experience and qualified workforce allow us to complete complex projects successfully. We take them up with full responsibility, respecting the binding standards and regulations.
Product characteristics
Sand castings have less accurate shapes, less accurate dimensions and their surfaces are rougher than those of castings manufactured using the die-casting technology. However, using this method we are able to manufacture components of up to 50 kg in weight. We use molds of different sizes, depending on the dimensions of the finished good. The castings are formed quite fast, the process of preparation for production is not costly, and manufacturing any number of identical items (seriality) is not a problem for us.